Here's a map of Remnant.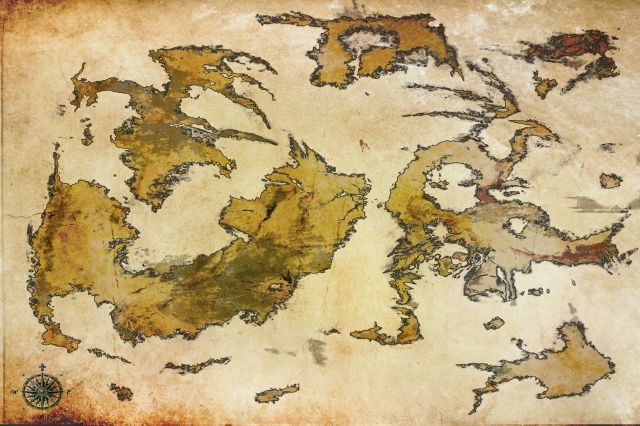 Here's a map of Remnant.
Notice anything?
The first map is older, both in terms of production and, by the style, probably in universe as well. You could, if you wanted, just say it was a retcon, but that would be a doylist explanation, not a watsonian one. Here, we shall assume both maps exist.
Comparing the two, it is obvious that the first map was made by a less accurate, more instinctive map-maker; without digital instruments and the like, explorers had to measure from memory, which could explain some of the inconsistencies between the two. Another hint comes from Pyrrha Nikos; one of the fairy tales she listed was called "The Shallow Sea," which could easily mean at some point the water levels were lower, and the difference in coastline could be attributed to rising ocean levels.
However, even with that, there are little differences hither and yon that suggest a bit of... shenaniganery. A good chunk of Saunus's inner coast and Menagerie's northern portion are sheered off, Anima's eastern-most point has a ravaged edge, the west dragon's wings have been shredded while the right has lost theirs and has a sliced-up tail, and an entire continent (plus a small island between it and the point of Anima) is now just flat out missing. Solitas seems to be the only region, in fact, that has benefited from the change--there is a tiny jut on its western edge that wasn't there before.
Again, we could just say Retcon... but that would be boring. Why, in universe, would all this have happened? Do you have any thoughts? Let's start up a discussion.
2 replies