Way back in November of last year, I pulled my left Quadratus Lumborum muscle (QL) in the gym by doing something stupid. For those who don't know, the QL connects the top of the hip to the bottom of the ribcage and spine, like this:
It's been a long road since then. I've been unable to go to the gym for over six months, and since the lower back is used in basically everything, I haven't even really been able to stretch in all that time. There is precisely one stretch I've been able to do safely, which is to lie on my side, bend my uphill leg at the hip and knee, and rotate my trunk in the opposite direction, to maintain elasticity in the QL.
My body has also changed in the last six months. For one thing, I have a gut now. Not a big one, because it's not like I increased my food consumption over the last six months, but enough to hang over my waistband if I relax my abs. I've also lost 7lbs. More fat, less weight.
Fortunately, I know where I lost the weight from: my upper leg muscles are pretty severely atrophied. I know that's where I lost it from because the rest of my body has still been getting enough incidental work to maintain mass. Since I wasn't able to stand up using my legs, I had to get out of my chair by pushing down on the armrests with my chest and triceps. I still had to do grocery shopping, and that meant holding upwards of 40lbs of food isometrically with my upper back and biceps. I keep a lot of stuff above my eye level, so my shoulders got work raising things up and getting them down. And my calfs and abs are always getting work, because they're calfs and abs.
What got almost no work is my upper legs and lower back. Unfortunately, in order to compensate for my QL being out of commission, my left obliques took up the mantle, and so they're recovering from some soreness due to overuse right now.
Basically, pulling a QL sucks, and I strongly recommend against it. The good news, however, is that I can finally confirm that my back is fully healed and ready to go again.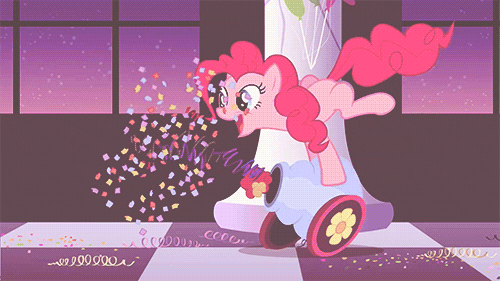 That's right, I chose a My Little Pony gif. Deal with it.  
The bad news is holy fuck am I ever out of shape. My cardio is basically gone. I used to be able to go up and down the stairs in my building 4 or 5 times in a row, and now I'm winded after climbing them once. My resting heart rate is up to 67 (that's high for me). My leg flexibility is basically not a thing any more. And I don't need to get back in the gym to know that I've lost at least 10% on all my lifts - probably closer to 40-50% on my legs. Maintaining mass doesn't mean maintaining ability, sadly.
The other good news is that I have a plan. This week I'm doing nothing but basic stretches. Next week too. After that I'll spend 3-6 weeks doing daily stretches and cardio 2-4 times a week. Once I'm satisfied that I'm making progress on my cardio, I'll start working in some calisthenics, exercises I can do at home with no equipment. And if I'm feeling particularly bold, I may even invest in the Athlean Xero program, which is apparently brutally hard, but can be done with no equipment at all, at home.
It's going to be at least another 3-4 months before I set foot in a gym again, but not because I'm injured; it will be because that's the plan. I hurt myself by trying to do too much too quickly. I do that a lot in the gym. That means the most important thing I can do right now is slow the fuck down. And by the end of the year, I will be climbing, as was the plan all along.
(you didn't think I'd forgotten about that, did you?)

Keeping myself fit has been a big part of my life for the last 11 years. For these past 6 months, I haven't been able to do it. It's time to reform good habits. I'm taking pictures of myself tonight, but I won't be sharing them - not yet. When I consider myself ready, I'll share several sets in sequence, so you can see where I'm starting from today, and where I've ended up. Hopefully, the difference between them will be dramatic. It's been a long road getting here, and I'm facing a hard road ahead. But I'm damn well up for it.
What are you guys up to?